Mark Twain - Writer, Humorist, Entrepreneur and so much more...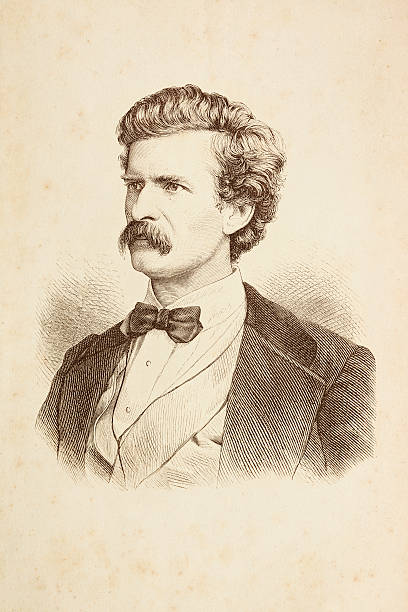 https://media.istockphoto.com/illustrations/engraving-of-writer-mark-twain-from-1882-illustration-id467013583?k=6&m=467013583&s=612x612&w=0&h=2uB347upb8kYN7vxUJBKYHZqnZKWpQsmDgwyjnuAL5c=
https://history-biography.com/mark-twain/
Mark Twain Biography
Samuel Langhorne Clemens, better known as Mark Twain (November 30, 1835 – April 21, 1910) was an American writer, humorist, entrepreneur, publisher, and lecturer. Originally from Florida, United States. He grew up on his Uncle Jonh's farm, a rich slave trader who owned about twenty slaves, and Mark's father would take care of the crops. The farm was located in Hannibal, a small town in Mississippi, place that would work as a source of inspiration for Twain's future literary creations.
At the age of eleven, he had to face the death of his father which left him only with his mom. Therefore, he decided to leave school. Over time, with the help of his brother, he entered as a typographer's apprentice in the Hannibal Journal, where he began getting interested in writing and he would continue to make his first newspaper articles in other publishers.
At the age of eighteen and with some economic independence, he decided to leave the house to start a new life. Life led him to settle for the first time in New Orleans; where he began as an apprentice pilot of a riverboat on the Mississippi River, a profession that was easy for him and in which he worked for until the river traffic was affected by the consequences of the Civil War of 1861. Because of this, together his brother enlisted in an irregular company of cavalry volunteers belonging to the Confederate army. They were sent to Nevada, where they tried their luck in the rudimentary silver mines.
He always kept in mind that his goal was to make a fortune. Therefore, in the mines, he worked hard to achieve it, but the situation was not as pleasant as he imagined it, so he decided to start working as a journalist in the Territorial Enterprise of Virginia City, writing articles with great ease, which produced a rapid popularity. Being twenty-eight years old, he understood that looking for fortune could bring him an unhappy life, and he decided to put all his effort to do what he enjoyed the most. Writing. He traveled to San Francisco, in 1864, where he would meet writers like Artemus Ward and Bret Harte.
"It's better to keep your mouth shut and appear stupid than open it and remove all doubt" ― Mark Twain
A year later, he was inspired by the stories of the gold miners of California and wrote his famous short story The Celebrated Jumping Frog of Calaveras County, achieving a great reputation throughout the country. This short story was published in the literary session of several newspapers in the city, where he signed with the pseudonym Mark Twain, although this pseudonym had been already adopted by him since 1863. This artistic name was chosen by him because it is an idea that expresses the depth necessary for optimal navigation.
Each of his trips was undoubtedly the birth of a story. In 1867, he made a trip through Europe and the Holy Land and based on this experience, he would write the story of "The innocents abroad" (1869). This story is really an excuse for Mark to express his vision about the experiences, the perspective of the places he visited: what his agents were like, his railroads, his hotels, etc. All with a view free of prejudice and very sincere. At this time, Mark was dating Olivia Langdon, the daughter of a businessman convinced of the anti-slavery struggle. He would marry her in 1870 and settled in Hartford, Connecticut.
In that place, he wrote many stories such as "Roughing it" (1872), in which he tells his experience as a journalist and gold seeker. Undoubtedly, one of his most famous stories was the novel "The Adventures of Tom Sawyer" (1876) in which he described his childhood in the small town next to the Mississippi River where he lived great adventures. From that moment on he published a considerable amount of stories, the most popular are: "A tramp abroad" (1880) which tells the journey of a character between the Black Forest, in Germany, and the Swiss Alps; The Prince and the Pauper (1882) that is a story developed in the England of the Tudors; "Life on the Mississippi" (1883) is an autobiography in which he describes his experience as a boat pilot; "The adventures of Huckleberry Finn" (1884), sequel of Tom Sawyer; "Following the equator" (1897); "A Connecticut Yankee in King Arthur's Court" (1889) it is a strong satire on the atmosphere of oppression in feudal England.
"If you tell the truth, you don't have to remember anything." ― Mark Twain
Some of the titles mentioned above were edited and published by his own publishing house Charles L. Webster and Company founded in 1884. In this editorial, he also supported the emergence of small authors. Ten years later, he decided to improve his editorial and invest in an automatic printing press. However, this idea did not go well and Twain ended up with a large debt. Therefore, he had to stop the role of the publisher and use his fame to promote several conferences around the world to obtain funds.
Between 1890 and 1900, his writings changed some of the style and content, exposing his remarkable pessimism due to the failure of his printing press and the closure of the Charles L. Webster and Company. In addition to the unfortunate death of his daughters by meningitis and epilepsy, his wife would become ill and die. During this period he would write Pudd'nhead Wilson (1894), a story that perhaps was inspired by the anti-slavery fight of his son-in-law, about a murder on racial grounds. In addition, he wrote Personal Recollections of Joan of Arc (1896). Besides, he was the author of stories such as The Man That Corrupted Hadleyburg (1899) and The war prayer (1905), also he created some political essays, such as The Mysterious Stranger (1916).
In recognition of his outstanding work as a journalist and writer, he was awarded by the University of Oxford the Honoris Causa doctorate in 1907. Three years later, Mark Twain dies in Redding, Connecticut due to a heart attack.
After his death, he was recognized as the father of American literature. A talented writer who had the gift of turning every experience of his life into an admirable story.