Aethelfled, Warrior Queen Of Mercia
https://www.britannica.com/biography/Aethelflaed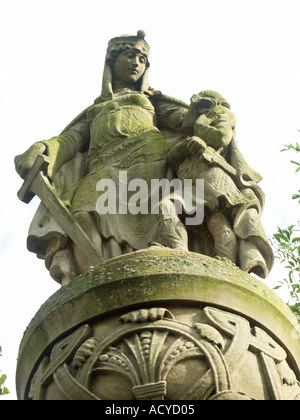 Aethelflaed
Anglo-Saxon ruler
Alternate titles: Aelfled, Ethelfleda, Lady of the Mercians
By The Editors of Encyclopaedia Britannica • Edit History
---
Died:
Notable Family Members:
Aethelflaed, also spelled Ethelfleda or Aelfled, also called Lady of the Mercians, (died June 12, 918, Tamworth, England), Anglo-Saxon ruler of Mercia in England and founder of Gloucester Abbey.
The eldest child of King Alfred the Great, she helped her brother Edward the Elder, king of the West Saxons (reigned 899–924), in conquering the Danish armies occupying eastern England. Aethelflaed became the effective ruler of Mercia some years before the death (911) of her husband, Aethelred, ealdorman of the Mercians. While Edward fortified (910–916) the southeast Midlands, Aethelflaed was building fortresses around Mercia. By 917 she and Edward were ready to launch a massive joint assault on the Danish positions. Aethelflaed quickly captured Derby, and in 918 she occupied Leicester, but she died before the campaign was successfully completed. Edward then claimed his sister's kingdom and completed the subjugation of the Danes. Because Aethelflaed had extended her influence into Wales and Northumbria, Edward was able to assert his authority over these regions as well. Thus, almost all of England came under his control.